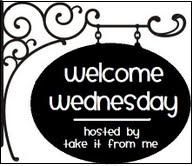 These blog hops are ADDICTING!! I seem to be coming across so many great and interesting blogs via these things. Anywho,
Take it From Me!
is having their weekly Wednesday blog hop. It gives bloggers a chance to meet new bloggers and learn something new as well. Check it!
And if you are here from Welcome Wednesday:
WELCOME!!!