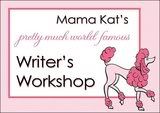 Mama Kat over at
Mama's Losin' It!
has this super cool link up party going on! And if you have EVER had writer's block (like I seem to get often), you will appreciate what she has put together. Every Tuesday she posts (or email if you so choose like I did) a new prompt for
Writer's Workshop
. You choose whatever prompt that floats your boat at the moment, post to your blog, go back and link it! It's that simple!
This week's prompt is "30 Things I Vow to Do This Summer":
1. Wear make up at least twice a week.
2. Take Mini Me to see Toy Story 3.
4. Start a container garden.
5. Go to Pismo Beach!
6. Make 10 new jewelry pieces.
7. Read 4 books.
8. FINALLY decorate the living room and kitchen.
9. Lose 10 lbs.
10. Go on a date with my husband ::wink wink::
11. Catch up on a few of the Sex and the City seasons while sipping on a fruity drink.
13. Cook in my stilettos!
14. Clean out the downstairs closet.
15. Shop early for Christmas.
16. Attend the family reunion in New Orleans!
17. Do fun crafts with Mini Me.
18. Find a church home.
19. Go to a spa and be pampered.
20. Get READY FOR SOME FOOTBALL!!!
21. Make my own ice cream.
22. Remind The Hubster to put in his Chief packet! Every week ::big grin::
23. Have a picnic with the family.
24. Go for ice cream with the family.
25. Have family game night on the Wii.
26. Leave post-it notes for The Hubster with cute foo-foo sayings!
27. Continue making healthy food choices for the fam.
28. Watch my little girl grow up.
29. Love my husband.
30. LOVE MY FAMILY!!