Just found out about this from Simply Stacie (excellent blog by the way; check it out). Looks like fun and I'm all about fun! And since I am actually up early enough to blog without distraction from the little one, I think I'll join in.

You can join in too by either clicking the button below or by posting your responses to the questions in my comment section! Fun way to get to know others.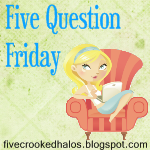 1. Is there something you've always wanted to try but just can't muster up the courage to actually do yet?

- Skiing! I want to go skiing so bad but, not only have I yet to muster up the guts to, I don't have anyone in my "Circle of Friends" who want to go skiing too. Hmmm, I may need new friends.

2. If you had $100 handed to you in cash without your significant other knowing about it, what would you spend it on?

- Honestly, go put half in the bank and use the other half to go buy me a really cute pencil skirt!

3. What was your favorite piece of playground equipment as a child?

- The Monkey Bars! No one could do a flip over the bar like me!

4. Do you prefer a sweet or hearty breakfast?

- I'm going to go with hearty right now. But nothing too heavy.

5. Are you a Neat Freak or a Messy Bessy?

- I'm an a Middle of the Road kind of gal. I use to be a neat freak but since having a child, my neatness never stays put. Hurricane Mini Me wrecks havoc on everything. So, I just try to maintain the best I can. Hey, The Hubster hasn't complained so I guess we good.