Yes yes yes! Today was Day One and I feel amazing! I waited all week and weekend for Monday to come. Now that is unusual indeed for most people. But I sure did. I could have started on any day but, I'm a little anal about sticking to schedules like this. I knew Turbo Fire would be my first workout program I got once I became a
Beachbody Coach
. I have already done P90X so I needed something new. Oh and just because I am a Beachbody Coach, my blogging and reviews are my OWN. I wouldn't tell you anything false because I don't like receiving false reviews myself.
Turbo Fire is a total-body cardio-conditioning workout program that makes you forget that you are actually working out. Ok, so you know that you wouldn't be up in the club doing "high-low-roundhouse" moves but, you definitely don't feel like you are dragging along to yet another workout DVD. This programs combines kickboxing, aerobics and dancing to make for a fun-filled workout in a class setting. The moment I thought I was going to have to go sit my tail down from sweating and breathing so hard, the beat of the music kicked up and I started jamming all over again. It's a 12 week program and I just know I'm going to have fun!
What Comes in the Turbo Fire Box?!
When you receive your box you will find the above items in there. You get the 12 workouts, lower body band (the green band), a resistance band, the fitness guide, class schedule, nutrition guide and a 5-day inferno plan (for like if you were getting ready for an event or something and need some quick intense training). If you order the
complete system
, you'll also receive the
P90X Results & Recovery Formula
, 5 extra workouts, the sculpting gloves and a journal.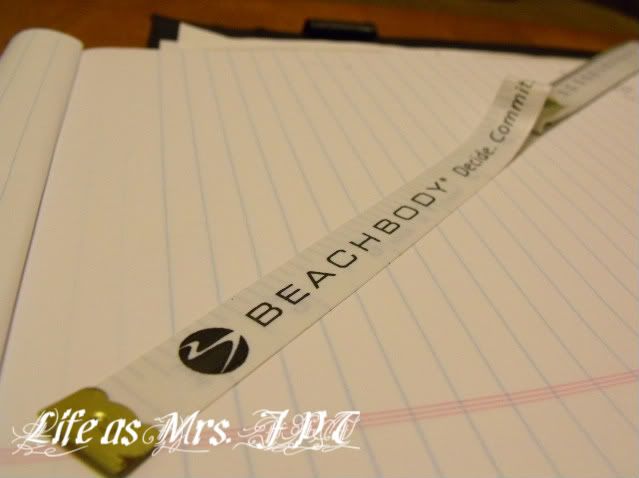 Yes, the dreaded measurements. Well, let me say most people dread getting their measurements done. That may have been the case for me earlier last year, but seeing how much I have dropped and the changes that have been made, it doesn't bother me. Plus, you probably wouldn't have been able to guess if you saw me in person because, no one ever believes me when I tell them my measurements anyway. Maybe it's because I'm 5'7? I don't know. I did forget to weigh myself and snap my starting pictures (I'll do it first thing in the A.M), but, one day won't hurt right?! Here we go:
Chest: 38 in.
Waist: 37.5 in.
Hips: 44 in.
L. Thigh: 25 in.
R. Thigh: 25.5
L. Calf: 15
R. Calf: 15.5
L. Arm: 12.75 in.
R. Arm: 12.5
Not too bad right?! I wouldn't mind shrinking that waist number a little. Although my waist isn't huge, I just want my flat abs back! So tomorrow, I'll weigh myself and add it in the week review post. I can't wait for tomorrow to come, LOL! I had way too much fun today and really wanted to do the workout twice today. But I refrained. I'm always going to do a twist to the nutrition guide. I'm going to be a raw foodie by day and a flexitarian by night. Yes, I know, I'm weird!
Are you getting fit this year? If so, what are your plans and how are they going?